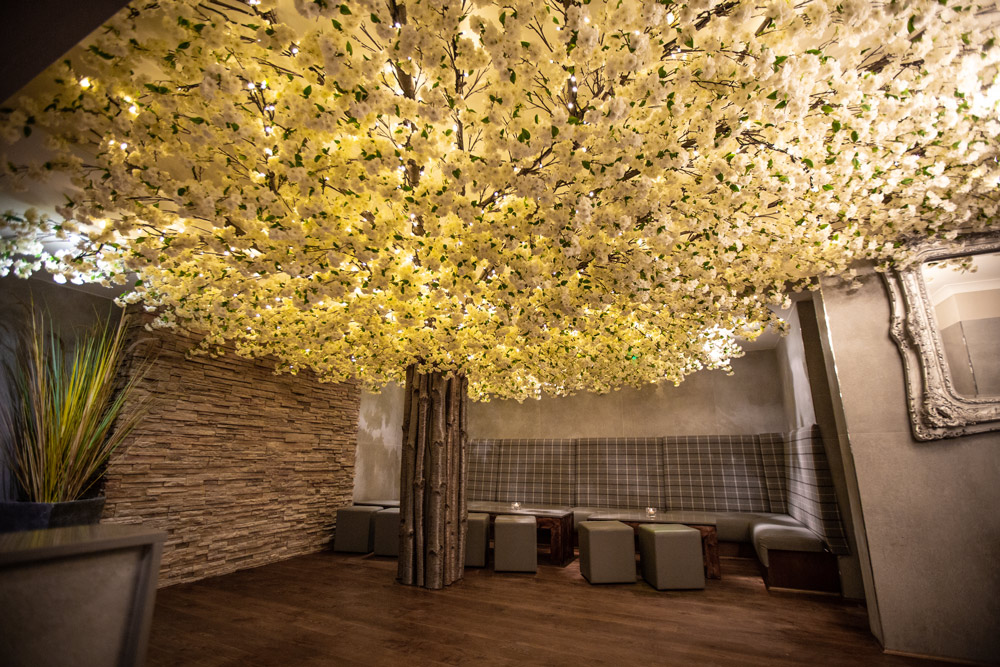 Following extensive renovations of the Hogarth Suite and lounge areas, the Crown Hotel Bawtry is delighted to announce the arrival of a giant indoor Blossom Tree!
The giant tree was made and installed by Plantart and is the central design feature to the pre-lounge area of the recently renovated Hogarth wedding suite.
Katey Dent Sales Manager commented "After the huge success of our sister venue Bawtry Hall and its giant indoor blossom tree, we felt it was only right to give the Crown the same superb makeover with the addition of a sister blossom tree! The tree is situated on arrival for weddings and events and will be a great location for arrival drinks and canapes, and more importantly the perfect backdrop for wedding photographs and social media snaps."
The tree bark and branches are made from natural cherry trees from sustainable woodlands, and the white silk blossom are individually handcrafted for the project. The branches and blossom fill the ceiling space in the lounge area, and there are also thousands of fairy lights woven into the blossom for lighting.
Craig Dowie Managing Director of The Crown and Bawtry Hall explains "We think the tree looks fabulous and it was only right we installed one at the Crown Hotel after the huge success of the tree at Bawtry Hall. In many culture's trees are sacred symbols of energy, spirituality, stability, growth and love – all of which very much reflect weddings and joyous special occasions that we host at the hotel."
The Crown Hotel are holding a wedding open day on Sunday 8th March 11am to 3pm where couples can come and view the recent renovations and the new blossom tree! No appointment necessary couples can just call in!